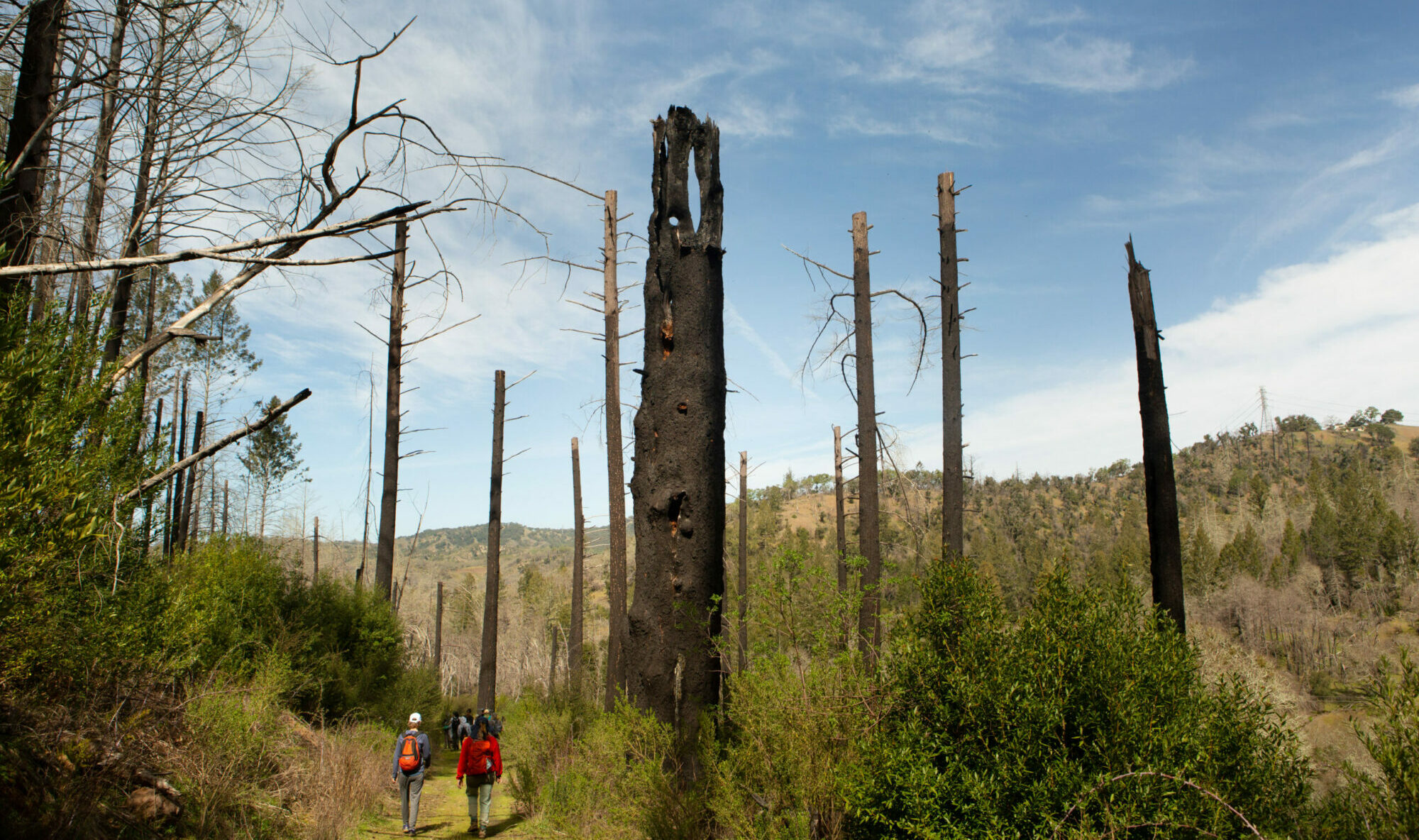 The Master Plan Process
Envisioning the future of Mark West Creek Regional Park and Open Space Preserve
How the Master Plan Process and Conservation Easement Work
A master plan creates a vision for development of infrastructure, recreational facilities, and other capital upgrades, resource protection measures, and overall management of the park. The master plan for Mark West Creek Regional Park and Open Space Preserve will be driven by public input to create an accessible, beautiful park with an emphasis on low-impact public access, ecological protection and enhancement, and fire risk management. The master plan will also include a natural resources management plan and extensive environmental review in compliance with the California Environmental Quality Act (CEQA).
The master planning process will include extensive community engagement to evaluate opportunities and constraints, comment on master plan alternatives, select a preferred master plan, and prepare an environmental permitting document and resource management plan for the Preserve.

Regional Parks will be working closely with the Sonoma County Agricultural Preservation & Open Space District (Ag + Open Space) during this process. Ag + Open Space holds a conservation easement (CE) on the property which protects the conservation values of the property, defines building envelopes for park development, and helps guide the programs, services, and facilities to enhance public access.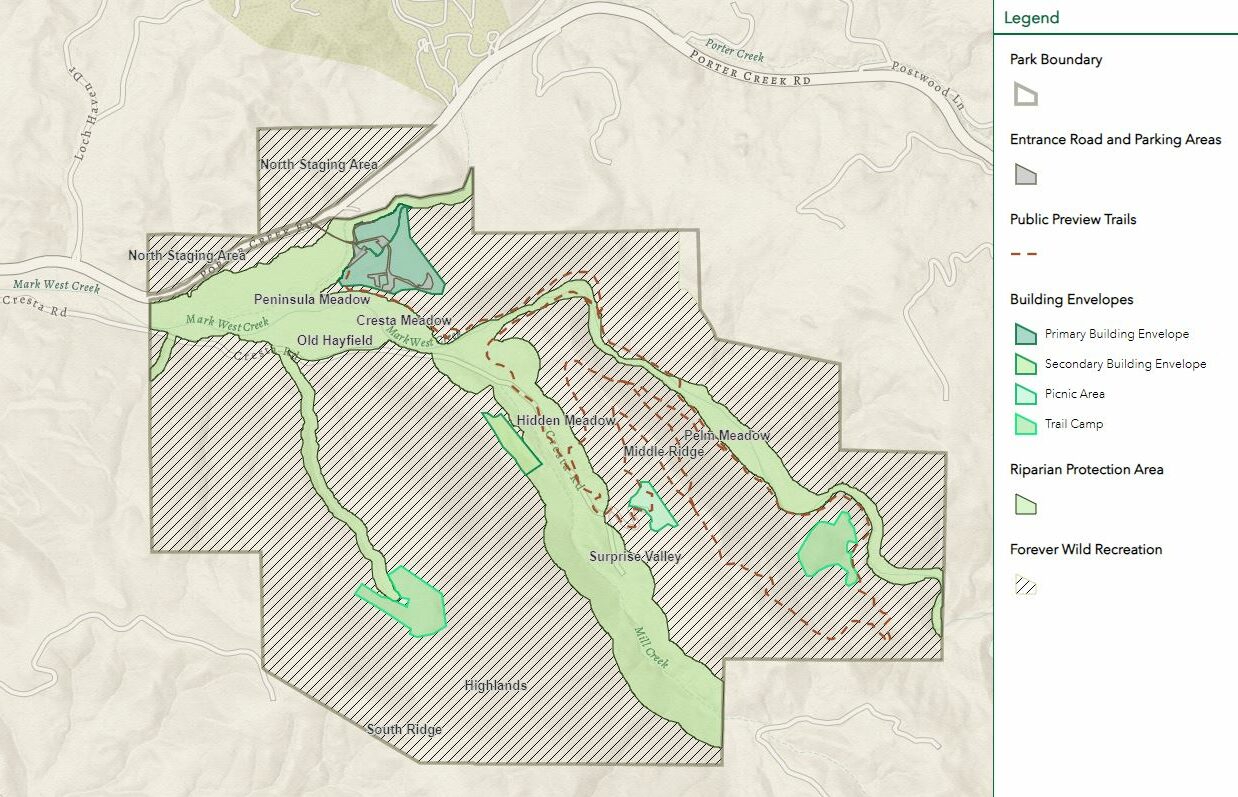 The majority of the 1,192 acres of park property were purchased by Ag + Open Space using the Measure F ¼ cent sales tax approved by the voters of Sonoma County.  The property was then deeded to SCRP with a CE and recreation covenant to protect it for resource conservation and public recreation in perpetuity.  Over 220 acres are part of the riparian protection zone and cannot be developed.  Over 912 acres are designated forever wild and can only be used for trails, natural resource management, and other similar activities.  This leaves approximately 68 acres (less than 6%) available for developing recreational facilities to support public use.
The CE identifies seven (7) development areas that allow for certain types of uses and recreational facilities to support them.
The Limited Park Development Area & Primary Building Envelope
This constitutes what we term the main park entrance, compound, and staging area for the Preserve.  The main entrance at 3000 Porter Creek Road will be accessed on a tree-lined gravel road over a new bridge across Porter Creek.  The limited park development area encompasses approximately 4.6 acres on the south side of Porter Creek, and includes the existing central corrals, stables, covered riding arena, and the ¾-acre Life Estate of Bill Cresta, whose family has lived on the property for many decades. The Tubbs Fire of 2017 destroyed three residential structures, but the Cresta Residence and covered riding arena were unscathed. The main compound area is currently leased to Equi-Ed, which is a therapeutic equestrian program serving a variety of individuals with special needs. This area could be used for overflow parking, paths and trails, picnic tables, benches and related amenities.
The primary building envelope consists of approximately 14 acres and lies to the south and west of the limited park development area.  Allowable uses and facilities include parking, restrooms, visitor serving buildings, indoor environmental education, camping, picnicking, staging areas, and two residential structures for staff and caretaker housing.
Secondary Building Envelope
At approximately 4.3 acres, the secondary building envelope is located in the central area of the park above Mill Creek.  The site was the original location of the Wendle residence, which was lost in the 2017 Tubbs Fire.  Miraculously the large shop just a couple hundred feet away, was spared from the flames.  This area could be used for staff housing, park operation and maintenance activities, trails, paths, picnic sites, benches, and related amenities.
McCullough Picnic Area   
The picnic area is located above Surprise Valley on the site of the McCullough residence, which was also lost in the 2017 Tubbs Fire.  The area is approximately 3.7 acres and the allowable uses include a restroom building, group and family picnic sites, paths, trails, and related amenities.  Utilities are available in close proximity to this site and can be developed to serve this area.  There is also a provision for up to four campsites to be developed in this area, but this would require one of the trail camps (see below) to be left undeveloped.
Trail Camp 1  
Trail camp 1 is approximately 8.5 acres and is located along Mark West Creek just south of the Pelm Homestead.  The CE permits up to four primitive campsites to be developed, including tent pads, tables, food lockers, and related amenities.  Well-designed and aesthetic pit toilets, if approved by Ag + Open Space, can also be provided.  Water may be available to the site, but lighting and other utility services would not be provided.
Trail Camp 2  
Trail Camp 2 is located in the southwest area of the Preserve and is approximately 10.2 acres.  The site does have an old well and water tank that were burned in the fire but could be restored to provide water for camping.  The CE permits up to four primitive campsites to be developed here, including tent pads, tables, food lockers, and related amenities.  Well-designed and aesthetic pit toilets, if approved by Ag + Open Space, can also be provided.
North Trail Staging Area
The Preserve includes two triangular areas, separated from the main park property by Porter Creek Road, where a North Trail Staging Area may be developed.  The flat portions of this area are approximately 22.7 acres and may provide opportunities for future trail connections on existing easements to the north.  The CE allows for the development of parking and trailhead improvements to support public access.
Planning Process Landmarks
Late Summer 2022
Step 1: Public Input Gathered
Learn more about the planning process, read the project's Frequently Asked Questions (FAQs), peruse an opportunities and constraints analysis, and take the online survey!
As part of the land transfer agreement with Sonoma County Regional Parks, Ag + Open Space holds a conservation easement and a recreational covenant on the property. The recreational covenant ensures that the property will always be a publicly accessible park and open space preserve. The conservation easement establishes guidelines and conditions to protect the natural resource, habitat connectivity, scenic, open space, recreational, and educational values of the property in perpetuity, while supporting low-intensity recreational and educational uses. For example, the conservation easement defines specific areas for development of park facilities and outlines areas where certain uses, such as potential overnight camping, are permitted. The easement also limits the number of bridges allowed over Mark West, Porter, and Mill Creeks. Ensuring these protections and limitations are maintained is a primary focus of the master planning process.
Key elements of the master plan will include:
Fire Risk Management
Vegetation and fire management is crucial to protect the health of the preserve, nearby properties, and Sonoma County. Many mature trees died when the property burned in the 2017 Tubbs Fire, one of the largest fires in California's history. The resilient natural habitat, abundant with native plant species, including fire-resistant coastal redwoods, bay trees, chaparral, and understory plants, is well-adapted to disturbance by wildfire, and regrowth is already occurring. This cycle will no doubt repeat itself, as we head into a hotter, drier reality presented by a changing climate. The master plan will incorporate fire-adaptive management strategies that will make the park a model for fire risk mitigation and forestry management in Sonoma County and beyond.
Natural Resources Management
The master plan will also guide ecosystem and habitat management, balancing public access and site improvements, with priority given to helping the land continue to thrive in its natural state. Preference will be given to keeping the integrity of natural systems intact to help restore, maintain, improve, and sustain ecosystem diversity for future generations to enjoy.
Public Access
In keeping with Sonoma County Regional Parks and Ag + Open Space's shared motivation to improve the public's sense of place and connectivity to nature, the Mark West Creek Master Plan will serve as a guide for responsible public access, including renovated parking, improved ADA accessibility, and multi-use trails. As nature-seekers enter the park, they will be able to access a wide variety of trail options for hiking, running, mountain biking, and horseback riding.
Autumn 2022
Step 2: Design Alternatives
Sonoma County Regional Parks presents three design alternatives for public review. Each design alternative aims to balance park priorities such as natural resources protection and management, wildlife corridor connectivity, public access improvements, trail design and connections, community concerns, historical facilities use, site accessibility, revenue generation, fire risk management, and maintenance and operation costs. With variations between each design alternative, the public is asked to review and comment with the goal of selecting a preferred alternative for development of the master plan, resource management plan, and environmental document.
Early 2023
Step 3: Environmental Review
Park development plans undergo extensive environmental review pursuant to the California Environmental Quality Act (CEQA). To identify, discuss, and mitigate the potential environmental effects of developing the Preserve, the environmental analyses conducted to support the CEQA review process could include, but would not be limited to:
aesthetics and visual resources;
biological resources; and
archaeological, historic, and tribal cultural resources.
Regional Parks solicits public feedback on environmental conditions and/or topics to be considered for this project's Initial Study, including what issues need to be disclosed about the environmental impacts associated with the project. Come back here to find an outline of the CEQA process; a summary of additional data, studies, and project information; and online planning exercises that present a minimum of two site design alternatives for public comment.